Završite ono što ste započeli!
Današnji anđeo donosi stvarno dobru vijest  za vas: Dovrišite započeto, to ste i željeli..  Doista! Sada je vrijeme da to završite. Pratite nebeske znakove, sada jednostavno to trebate završiti bez odgađanja. To je jedini način da vam svaki trenutak donosi mir i sreću. Morate znati da je ono što počnete zbog svoje želje, iz ljubavi, trebate i dovršiti slušajući glas svojga srca, to je ono što je vas tjera naprijed, jer dolazi iz duše.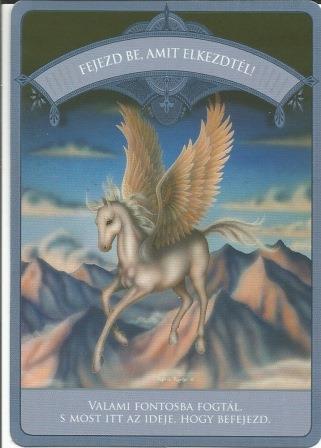 Međutim, ego teži da vs zaustavi u tom procesu, a strahovi, nesigurnost i zabrinutost vas žele spriječiti u napredovanju.

Anđeli i jednorozi vam mogu pomoći u pobjedi ega i strahova. Nemojte se obeshrabriti i završite ono što ste apočeli ljubavlju. Prava hrabrost je isto između  ega, razmišljanja i kojekakvih savjeta,još uvijek u svom srcu i slušati anđele. Izaberite ljubav.
Danas pitajte svoje anđele i jednoroge najvažnije pitanje, što je tvoj sljedeći korak. Vrlo jednostavnim riječima izrecite svoju molitvu:
Molim vas, pokažite mi se u svjetlu božanske ljubavi ispred mene na način da  jasno vidim: Strah me od mog odustajanja. Moram nešto učiniti! Ako trebam nešto mijenjati, molim jasne znakove o tome što mi je činiti.
Molim vas, dragi anđeli i jednorozi, pomozite mi da prepoznam i  razumijem nebesku poruku u svojoj glavi i u svom srcu.
Dajte mi snage da to učinim u svim započetim stvarima, to je važno za mene.  Anđeli dajte mi snage da ono nužno napravim već danas.
Anđeli i jednorozi, hvala na pomoći!